Just start managing your business campaign with the web. We make sure that the best and user-friendly experience will be delivered. All you need to do is find customers those who want to run Bulk SMS and Voice Call Campaign and sell Bulk SMS and Voice Call credits to them. Bulk SMS and Voice Call Credits will be given in the wholesale price and you can sell them at your own prices to needy customers. You will get a ready made white labelled panel, which works with your own domain or subdomain. Your customers control panel and website is 100% customizable, so that nobody will come to know that we are working on the backend. No Programming or Technical Skill is required, we have developed everything ready and easy for you.
Features of our Channel Partner Program

You can start your own business with your own domain
You can configure your own logo with your company or brand name .
100% White Labelled Ready Made Website and Control Panel to show your own business
No need to do any market study to start own business
Can customize your control panel & website.
Can upload your own changes according to your needs.
Get the guaranteed business results in the short span of time
No need any special requirements or infrastructure to start this business.
Can effectively manage all types of Customers, Users, Resellers, Retailers & Distributors.
A simple & organized dashboard manages Recharges For Customers where you can manage Recharge.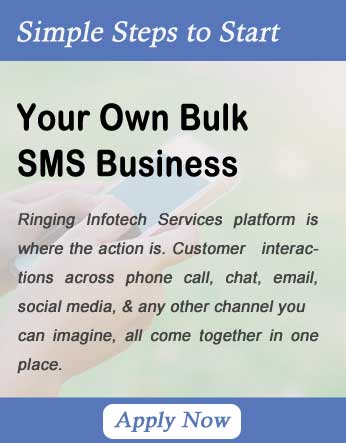 Pricing
No setup costs | No license costs | No monthly costs | No sender ID cost | You just pay a small fee per SMS | FREE Integration Code. You can also "Pay by cheque / DD / Funds transfer " as these payment options are also available. Click Here. All purchases are WITHOUT TIME LIMIT or in other words NO TIME VALIDITY to send sms.
Bulk SMS Price
10 SMS
For Free Trial
5000 SMS 30p/SMS+GST
10000 SMS 20p/SMS+GST
25000 SMS 16p/SMS+GST
50000 SMS 14p/SMS+GST
100000 SMS 13p/SMS+GST
250000 SMS 12p/SMS+GST
For Higher Packages Kindly Contact
Get Started
Premium SMS Price
10 SMS
For FREE TRIAL
5000 SMS 30p/SMS+GST
10000 SMS 22p/SMS+GST
25000 SMS 18p/SMS+GST
50000 SMS 16p/SMS+GST
100000 SMS 15p/SMS+GST
250000 SMS 14p/SMS+GST
For Higher Packages Kindly Contact
Get Started
Voice Call Price
10 OBD
For FREE TRIAL
5000 OBD 40p/OBD+GST
10000 OBD 35p/OBD+GST
25000 OBD 30p/OBD+GST
50000 OBD 26p/OBD+GST
100000 OBD 24p/OBD+GST
250000 OBD 22p/OBD+GST
For Higher Packages Kindly Contact
Get Started
Frequently Asked Questions
Contact
Our company provides free SMS service and free voice call service for the demo, you can sign up and take few demo SMS and Voice Call for the testing purpose. Once you satisfied, then go for the different packages according to your requirement.
Address
G23, Sector -63,
Noida - 201301
Call Us
+91 971718 4949
+91 95600 71013
Email Us
harsh@ringinginfotech.in

Working Hours
Mon - Sat: 9:30AM to 6:30PM
Sunday: Closed