Home
> Voice Call Services
No matter whether you have a small business or a large business. The business text manage is well-enough to fulfil to cater all your marketing needs in just one go.

Ringing Infotech have designed a user-friendly panel which can be managed and operated with ease. Business is strengthening their role in the market with their fast and efficient pre-recorded voice calls which are sent to hundreds in bulk at once.

You can start new business with us now !
Ringing Infotech has only a target to give quality service in reasonable and affordable pricing to customers and they can utilize it for business development. Our most known products and services are Bulk SMS, Voice Call, Digital Marketing and Software Design & Development. We have enough infrastructure and skilled man power to develop a customized solution for any requirements of the customer.

Keep updating your customers about all your new updates and offers via SMS. Promo SMS are used to endorse the brand effectively.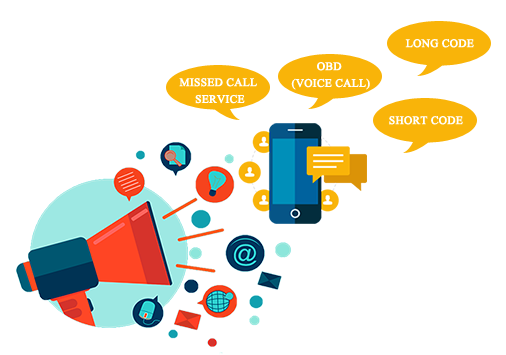 OBD (VOICE CALL)
OBD (VOICE CALL) enable to send Voice Ads or pre-recorded voice messages in known languages to mobile and landline numbers, They are automated calls and involve the automated dialing of multiple numbers all at once.



MISSED CALL SERVICE
Cloud based missed call alert service will help you to generate leads and enable you to easily engage with your customers.
You can select a unique 10-digit or a toll free number.




LONG CODE
A Long Code number is 10 digit virtual mobile number used to send or receive voice calls and SMS from all over the world. Long codes are intended for P2P communication.



SHORT CODE
An SMS shortcode is a 5 digit number to which an SMS text message can be sent. Shortcodes are often used by businesses to allow customers to opt-in to their SMS campaigns, alert services, or to enter SMS competitions.

Pricing
No setup costs | No license costs | No monthly costs | No sender ID cost | You just pay a small fee per SMS | FREE Integration Code. You can also "Pay by cheque / DD / Funds transfer " as these payment options are also available. Click Here. All purchases are WITHOUT TIME LIMIT or in other words NO TIME VALIDITY to send sms.
Bulk SMS Price
10 SMS
For Free Trial
5000 SMS 30p/SMS+GST
10000 SMS 20p/SMS+GST
25000 SMS 16p/SMS+GST
50000 SMS 14p/SMS+GST
100000 SMS 13p/SMS+GST
250000 SMS 12p/SMS+GST
For Higher Packages Kindly Contact
Get Started
Premium SMS Price
10 SMS
For FREE TRIAL
5000 SMS 30p/SMS+GST
10000 SMS 22p/SMS+GST
25000 SMS 18p/SMS+GST
50000 SMS 16p/SMS+GST
100000 SMS 15p/SMS+GST
250000 SMS 14p/SMS+GST
For Higher Packages Kindly Contact
Get Started
Voice Call Price
10 OBD
For FREE TRIAL
5000 OBD 40p/OBD+GST
10000 OBD 35p/OBD+GST
25000 OBD 30p/OBD+GST
50000 OBD 26p/OBD+GST
100000 OBD 24p/OBD+GST
250000 OBD 22p/OBD+GST
For Higher Packages Kindly Contact
Get Started
Frequently Asked Questions
Contact
Our company provides free SMS service and free voice call service for the demo, you can sign up and take few demo SMS and Voice Call for the testing purpose. Once you satisfied, then go for the different packages according to your requirement.
Address
G23, Sector -63,
Noida - 201301
Call Us
+91 971718 4949
+91 95600 71013
Email Us
harsh@ringinginfotech.in

Working Hours
Mon - Sat: 9:30AM to 6:30PM
Sunday: Closed